Transforming Spaces: Multi-Sensory Room for Mullaglass Primary School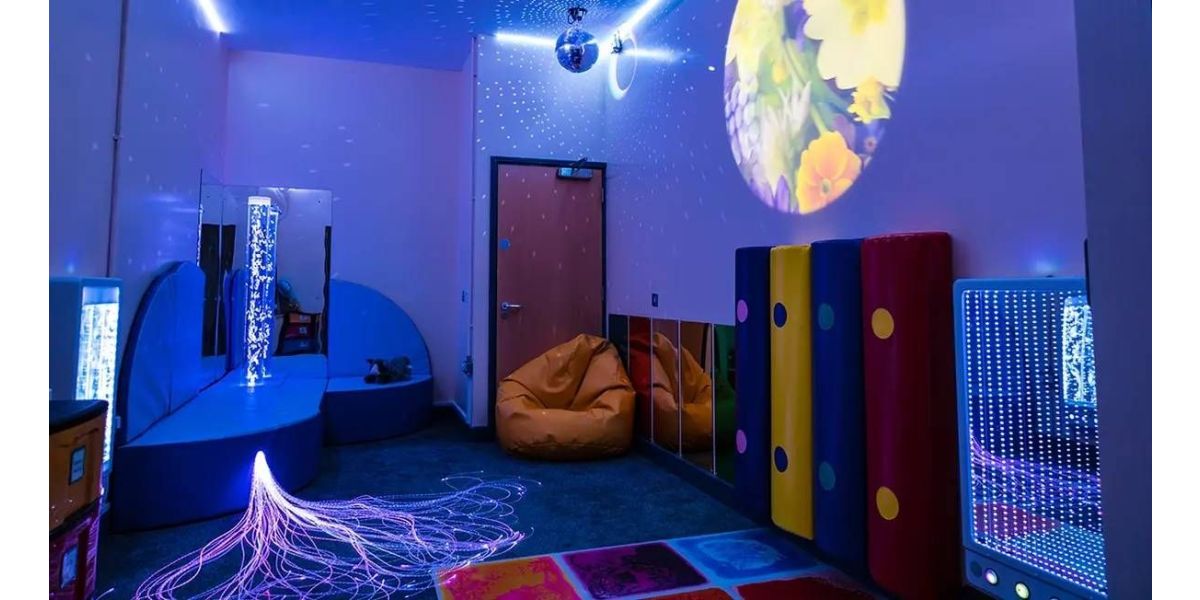 In this case study, we delve into the successful completion of our recent multi-sensory room project for Mullaglass Primary School. Multi-sensory rooms have gained significant recognition for their therapeutic benefits, catering to individuals with various sensory needs. Our aim was to create a safe and immersive environment that stimulates and engages the senses, offering a transformative experience for our the pupils at Mullaglass Primary School. Read on to explore the project from conception to execution, highlighting the key features and outcomes achieved.
Client Background:
Our client, Mullaglass Primary School, is small primary school in Newry, that provides their pupils with a high standard of education in a kind, caring, 'family' atmosphere.  With an increasing demand for multi-sensory therapy within their School, they approached us to design and construct a state-of-the-art multi-sensory room. Their objective was to create a dynamic space that promotes relaxation, sensory exploration, and therapeutic interventions for their clients.
Needs Assessment:
To ensure a tailored solution, Creative Activity conducted a site visit and an extensive needs assessment in collaboration with Mullaglass Primary School. We identified the following key requirements:
a) Flexibility: The room should accommodate a wide range of sensory needs, allowing customization based on individual preferences and therapeutic goals.
b) Sensory Stimulation: The space should offer a variety of visual, auditory, tactile, and olfactory stimuli to engage and calm the senses.
c) Safety and Accessibility: Safety features and accessibility considerations were crucial to ensure a secure and inclusive environment for all users.
Design and Planning:
Based on the needs assessment, our team of experts developed a comprehensive design plan. The design included the following essential elements:
a) Lighting: We incorporated adjustable lighting systems, including color-changing LED lights and fiber optic strands, to create a calming and visually stimulating atmosphere.
b) Sound: An integrated sound system with adjustable volume and soothing soundscapes allowed for auditory relaxation and sensory integration.
c) Tactile Surfaces: We installed a range of tactile surfaces, such as textured walls, interactive panels, and vibration pads, to provide diverse tactile experiences.
d) Aromatherapy: Scent diffusion systems were implemented, offering a variety of calming and stimulating aromas to enhance the multi-sensory experience.
e) Safety Features: Safety mats, padded walls, and rounded corners ensured a secure environment for users of all ages.
Implementation and Installation:
Once the design plan was finalized, our team commenced the construction and installation phase. Our skilled technicians meticulously executed each aspect of the design, ensuring quality craftsmanship and attention to detail. 
Client Impact and Outcomes:
Since the completion of the multi-sensory room, XYZ Therapy Center has witnessed remarkable outcomes:
a) Therapeutic Benefits: The multi-sensory room has significantly improved the effectiveness of therapeutic interventions, aiding clients in achieving their goals related to sensory integration, relaxation, and emotional regulation.
b) Enhanced Engagement: Clients are more motivated and actively engaged in therapy sessions, as the immersive environment encourages exploration and curiosity.
c) Increased Accessibility: The inclusive design has allowed individuals with disabilities or sensory challenges to benefit from the multi-sensory experience, promoting a sense of belonging and empowerment.
d) Positive Feedback: Families, caregivers, and therapists have expressed their appreciation for the transformative impact of the multi-sensory room, highlighting its role in improving the overall well-being of their loved ones.